Products - Digi IX10 LTE CAT4 Industrial Router – SAPPLY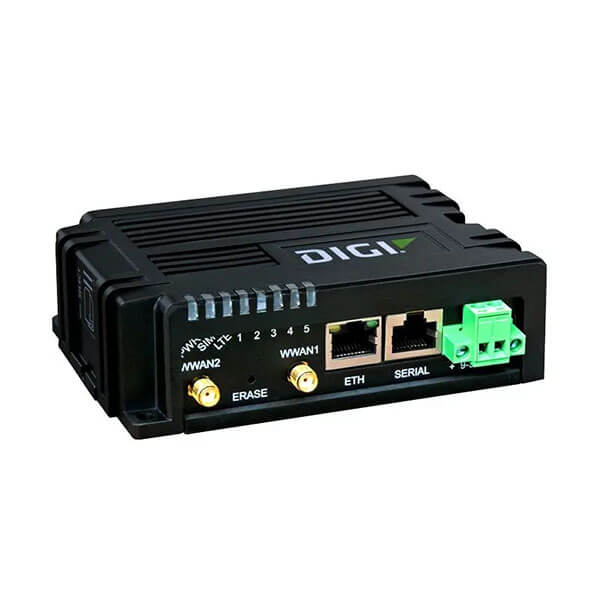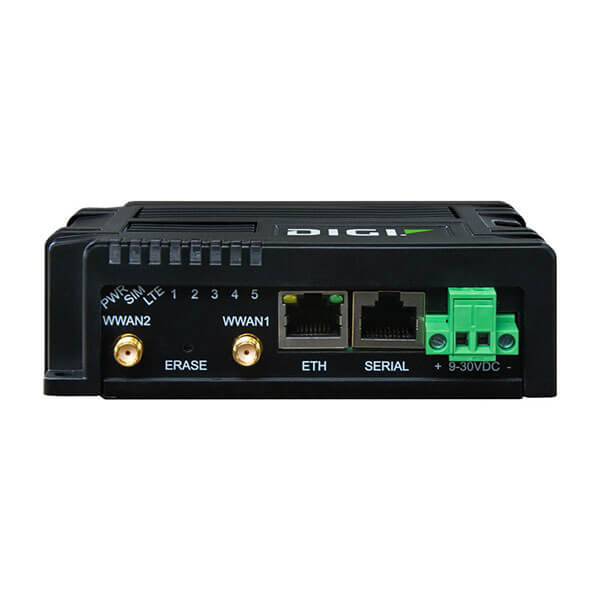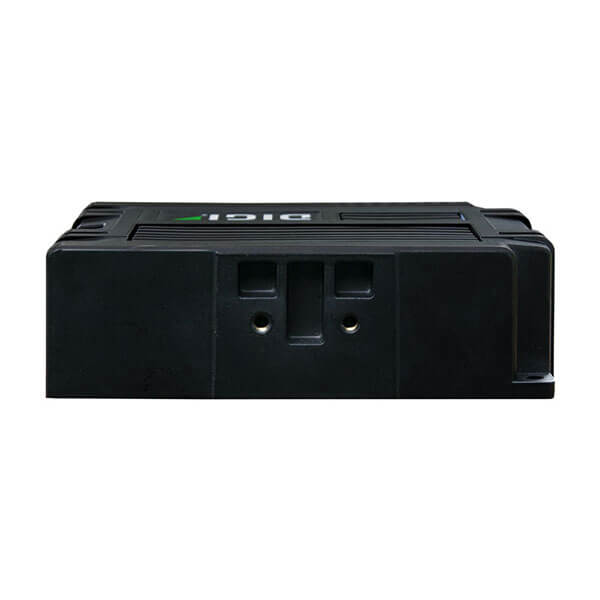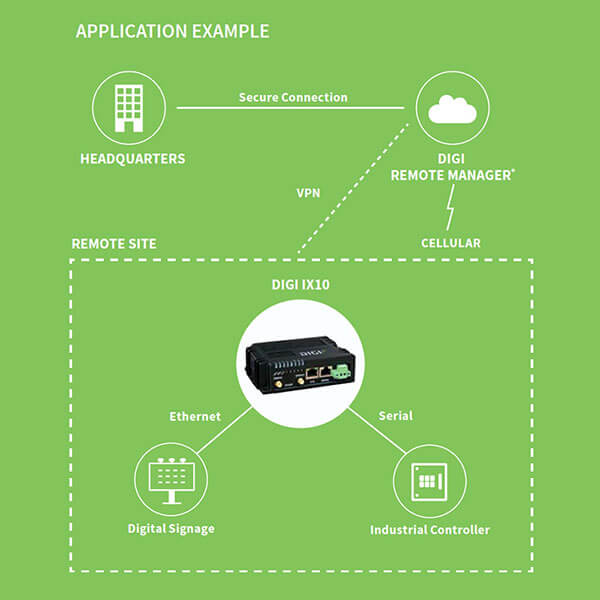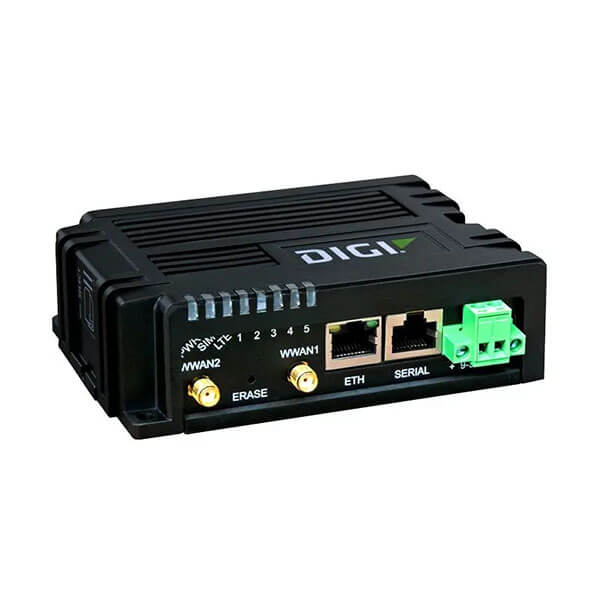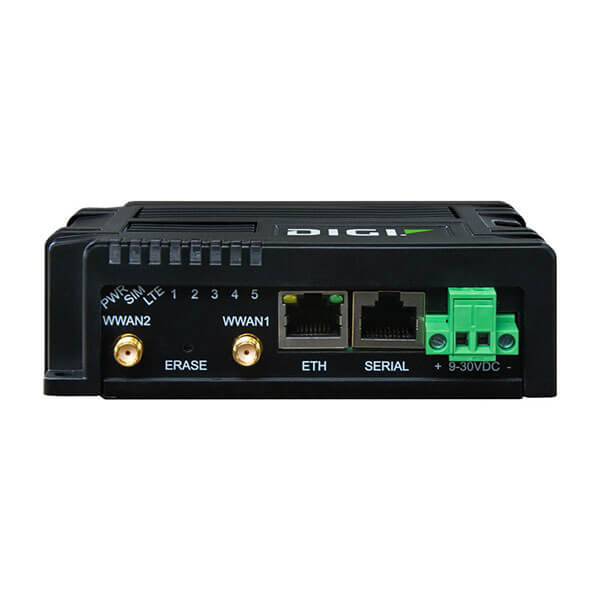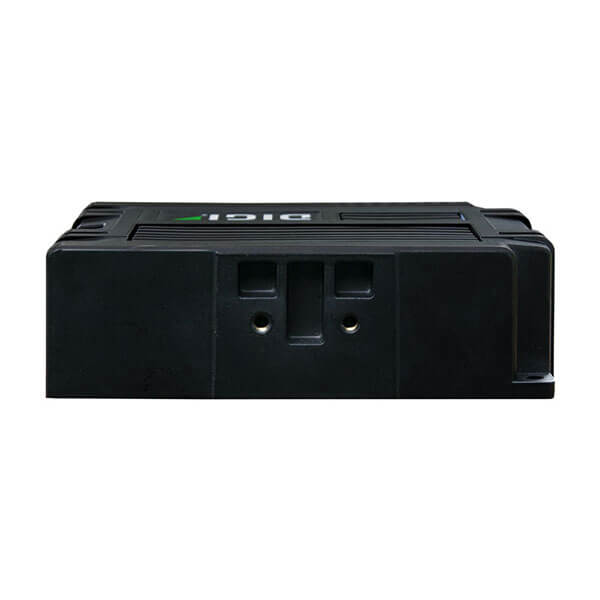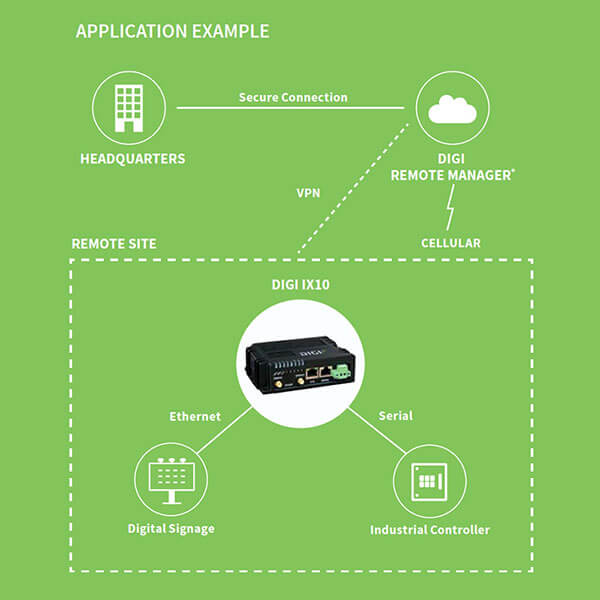 Digi IX10 LTE CAT4 Industrial Router – SAPPLY
Digi IX10-00G4 | Rugged, reliable, cost-effective industrial router for critical industrial applications
Compact and economical cellular routing platform with an industrial feature set

Redundant connectivity with dual SIMs and Digi SureLink®

Global bands and single part number to simplify global distribution, deployment, and management

Built-in Digi TrustFence® for device security, device identity, and data privacy
Digi Remote Manager® platform for easy setup, mass configuration, and management

Ethernet port and single RJ-45 serial port (RS-232/485)
Digi IX10 LTE CAT4 Industrial Router – SAPPLY
Description
Technical Specifications
Datasheet
Description
Digi IX10-00G4 LTE CAT4 Industrial Router Reliable Connectivity
Digi IX10-00G4 is a full-featured cellular industrial router built for trouble-free reliability over a long service life. Its flexible power and connectivity options make it a versatile and cost-effective choice for light industrial, digital signage, ATMs, lottery terminals, kiosks, and other unattended retail applications that need to provide secure transactions.
Digi IX10 features an RJ-45 serial port supporting both RS-232 and RS-485, as well as built-in dual SIMs for redundant connection. It is capable of operating independently on public LTE networks, with features to assist in network control and management, such as VLAN support, load balancing between cellular and Ethernet WANs, dual APNs, and configurable APN search.
Gain critical insights into your deployed devices and manage your network with Digi Remote Manager? ? the command center for your deployment. Digi Remote Manager (Digi RM) is a cloud-based solution that facilitates easy setup, mass configuration, maintenance, and support for hundreds or even thousands of remote Digi devices. Digi RM empowers you to evaluate, update, and configure your Digi enterprise products while providing easy visibility into the health of your network.
Digi IX10 enables low- or zero-touch provisioning. In addition, Digi IX10 offers the convenience of a global SKU, which simplifies inventory control for global distribution and deployment.
SPECIFICATIONS
Digi IX10
CELLULAR
CERTIFICATIONS
Visit https://www.digi.com/resources/certifications for latest certifications
LTE CAT 4 GLOBAL (G4)
LTE Cat 4 Global: B1, B2, B3, B4, B5, B7, B8, B12, B13, B18, B19, B20, B25, B26, B28, B38, B39, B40, B41
3G: B1, B2, B4, B5, B6, B8, B19
2G EDGE / GPRS: 850 / 900 / 1800 / 1900 MHz
LTE CAT 4 REGIONAL — NORTH AMERICA (N4)
LTE Cat 4 Regional — North America: B2, B4, B5, B12, B13, B14, B66, B71
3G: B2, B4, B5
LTE-A CAT 6 CBRS-ONLY — NORTH AMERICA (C6)
LTE-Advanced Cat 6 CBRS-only — North America: B42, B43, B48 (CBRS)
SIM SLOTS
(2) Mini-SIM (2FF)
SIM SECURITY
Behind SIM cover, secured with screw (#1 Phillips)
SOFTWARE AND MANAGEMENT
REMOTE MANAGEMENT
Digi Remote Manager®; SNMP v2/v3 (user installed/managed)
LOCAL MANAGEMENT
WebUI (HTTP/HTTPS); CLI (SSH)
MANAGEMENT / TROUBLESHOOTING TOOLS
FTP client, SCP; protocol analyzer with PCAP for Wireshark; event logging with syslog and SMTP client; NTP/SNTP; Nagios, Intelliflow, iPerf, Dynamic DNS, ping, traceroute
MEMORY
256 MB RAM, 256 MB flash
ETHERNET
PORTS
(1) RJ-45; 10/100 Mbps (auto-sensing)
SERIAL
PORTS
(1) RJ-45 10-pin (10P10C); RS-232/485; software selectable
– RS-232 DTE (RXD, TXD, RTS, CTS, DTR, DCD, DSR, RI)
– RS-485 (TX/RX+; RX/TX-); half-duplex
PHYSICAL
DIMENSIONS (L x W x H)
118 mm x 88 mm x 35 mm (4.65 in x 3.46 in x 1.38 in)
WEIGHT
0.39 kg (0.86 lb)
STATUS LEDs
Power, Internet, SIM 1, SIM 2, SIM fail, LTE, signal strength (5)
ENCLOSURE
Glass-filled polyphenylene sulphide (PPS) / IP30
POWER REQUIREMENTS
POWER INPUT
9 – 30 VDC, 1.0 A maximum
POWER CONSUMPTION
Configurable low-power modes; 1.5 W (light traffic flow), 3.5 W (peak data transmission); 1.25 W (low power mode, idle traffic)
ACCESSORIES
AVAILABLE ACCESSORIES
Accessories not included. Available accessories: industrial extended temperature or commercial power supply (required), and cellular antennas, DIN rail clip and EIA 422/485 to RJ-45 connector (recommended / optional)
ENVIRONMENTAL
OPERATING TEMPERATURE
-40 °C to 70 °C (-40 °F to 158 °F); device performance may be impacted above 50 °C (122 °F)
STORAGE TEMPERATURE
-40 °C to 85 °C (-40 °F to 85 °F)
RELATIVE HUMIDITY
5% to 95% (non-condensing)
APPROVALS
CELLULAR
Visit https://www.digi.com/resources/certifications for latest cellular certifications
SAFETY
IEC62368-1, CB, EN62311
ENVIRONMENTAL
ROHS3
EMISSIONS / IMMUNITY
CE; RED; FCC Part 15, Subpart B; ICES-003; AU/NZS CISPR32
WARRANTY
PRODUCT WARRANTY
3-year*
*Standard 3-year warranty upgradeable to 5 years with purchase of a Digi Remote Manager Premier 5-year subscription applicable to the product purchased only at the time of product purchase and with product registration at that time in Digi Remote Manager.
| ENTERPRISE SOFTWARE | Description |
| --- | --- |
| PROTOCOL SUPPORT | HTTPS, FTP client, TLS v1.2, SCP (client and server), SFTP, SMTP client for use by scripts and the command line, SNMP (v2/v3), SSH; remote management via Digi Remote Manager®; protocol analyzer, ability to capture PCAP for use with Wireshark; DynDNS; dynamic DNS client compatible with BIND9/No-IP/DynDNS; captive portal, Intelliflow; Nagios, DNS server, NTP server, multicast, mDNS, IPerf |
| SECURITY | IP filtering, stateful firewall, custom firewall rules (iptables), address and port translation, TLS 1.2 and above, OpenVPN client and server, VPN tunnels; Authentication: RADIUS, TACACS+; certificates; MAC address filtering; VLAN support |
| VPN | IPSec with IKEv1, IKEv2, NAT Traversal; OpenVPN client and server; GRE VPN tunnels; Cryptology: SHA-1/256/384/512, MD5, RSA; Encryption: 3DES and AES up to 256-bit (CBC mode for IPsec); Diffie Hellman: DH groups 1-32 (CURVE448) |
| ROUTING/FAILOVER | IP pass-through; NAT, NAPT with IP port forwarding; GRE; multicast routing; Routing protocols: RIP (v1, v2) OSPF, BGP; IP failover: VRRP; automatic failover, Digi SureLink® |
| OTHER PROTOCOLS | DHCP; dynamic DNS client compatible with No-IP/DynDNS |