Connect USB peripheral devices anywhere on a Local Area Network (LAN) without a locally-attached host computer
Digi AnywhereUSB® Plus brings secure, flexible and scalable USB 3.1 multiport connectivity for USB devices connected from remote or virtualized hosts. These USB hubs provide secure, robust connectivity between peripheral devices and a PC without the physical proximity constraints typically associated with USB devices.
Protect the host PC, and your network, by moving the PC into a more secure and environmentally protected location while allowing AnywhereUSB Plus to extend connectivity to peripheral devices.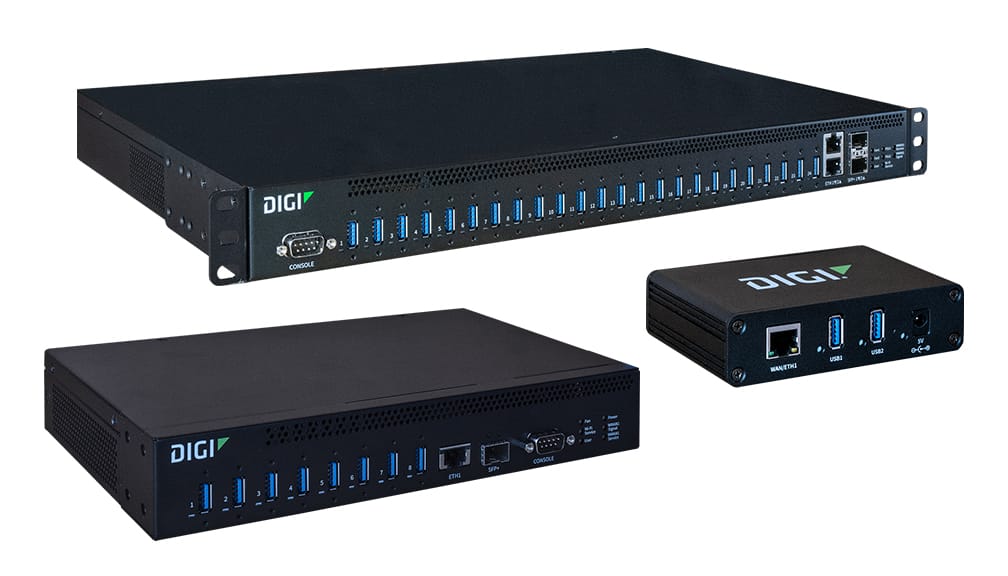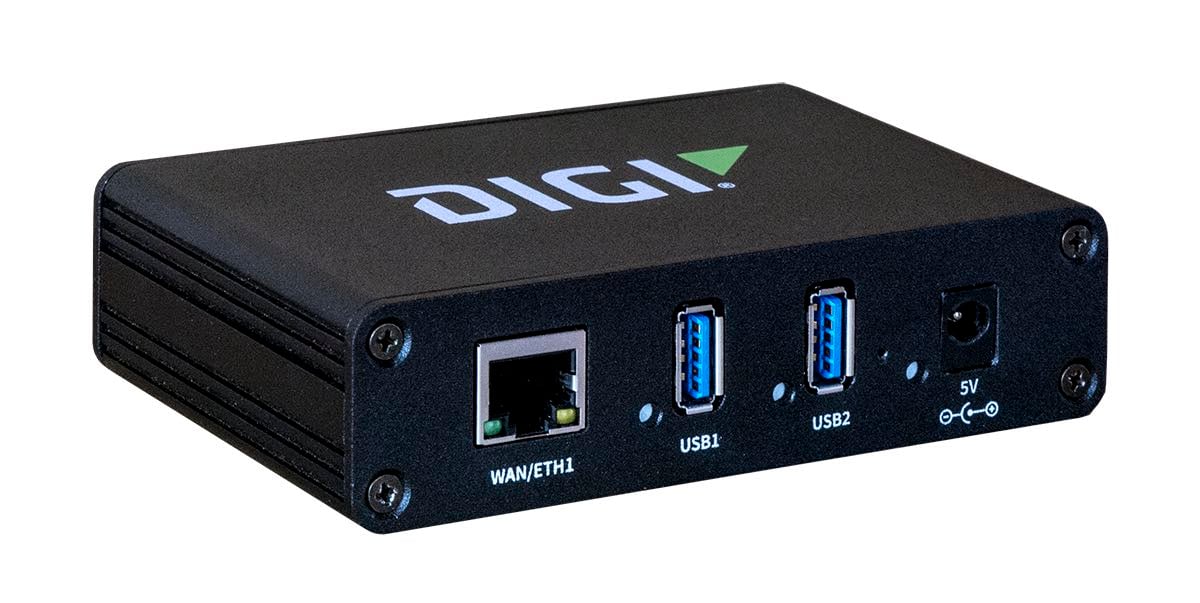 Increase Security Posture and Agility
As a network of USB IoT devices expands, the risk of cyber attacks increases. Network engineers need to take proactive measures to increase the security posture of their network. AnywhereUSB Plus coupled with Digi Remote Manager® protects your peripheral devices and gives you the security agility needed to keep your networks safe.
Connect to almost any USB device, anywhere. Manage up to 24 USB devices over IP. Recharge or install firmware updates on barcode scanners, receipt printers, credit card readers, point of sale terminals, cameras, scales, monitors, in-store kiosks, security check-in stations, telephone systems, removable disks, license dongles and more.
Digi AnywhereUSB Plus remote hubs let you manage USB assets over IP, beyond the limit of USB cable distances. Computers can be centralized, virtualized or positioned in racks to reduce the amount of equipment in a work area, improve security, and streamline configuration and testing.
Group USB ports within one remote hub to give different clients access to one or more of these groups of smart devices. Different users can then access only the equipment they need to work with, as they need it, without affecting access to any other devices being managed.
USB Connectivity Anywhere
Rapidly deploy, configure, secure and manage devices at any distance
IoT business automation requires communication with various IT assets and peripherals located across an enterprise. Digi AnywhereUSB® Plus remote USB hubs give users the simplest and most direct connection options for existing equipment with a variety of USB 3.1 Gen 1 port options.
All models have Gigabit Ethernet support. 8- and 24-port models support 10 GB Ethernet with the option to use SFP+ connectors for fiber network connectivity. The 24-port models support dual Ethernet or dual SFP+ and optional Ethernet bonding for higher speeds and/or failover redundancy. Wi-Fi versions of the 8- and 24-port models are also available, providing Wi-Fi client or access point connectivity.
Digi AnywhereUSB 24 Plus is rack mountable with 24 USB 3.1 Gen 1 ports, while AnywhereUSB 8 Plus is desktop or rack mountable (with included rack ears) and AnywhereUSB 2 Plus is desktop or panel mountable with eight or two ports, respectively, and support for Gigabit Ethernet. For enterprise and industrial customers who need remote or local USB ports and the higher speeds of USB 3.1 Gen 1 and Gigabit/10 Gigabit Ethernet, Digi AnywhereUSB Plus products give you an industry-leading connectivity solution.
Digi AnywhereUSB Plus provides a consistent, secure and cost-effective way to verify that your IoT infrastructure is configured correctly and fully operational as it continues to expand. It allows for flexible methods to test, provision, confirm and resolve any connectivity issues related to scaled deployments of IoT devices. Digi AnywhereUSB® Plus lets you readily manage a large volume of USB devices with minimal effort.
Browse AnywhereUSB Plus Products
2 USB 3.1 Gen 1 ports
Single 10 M / 100 M / 1 G Ethernet
5 VDC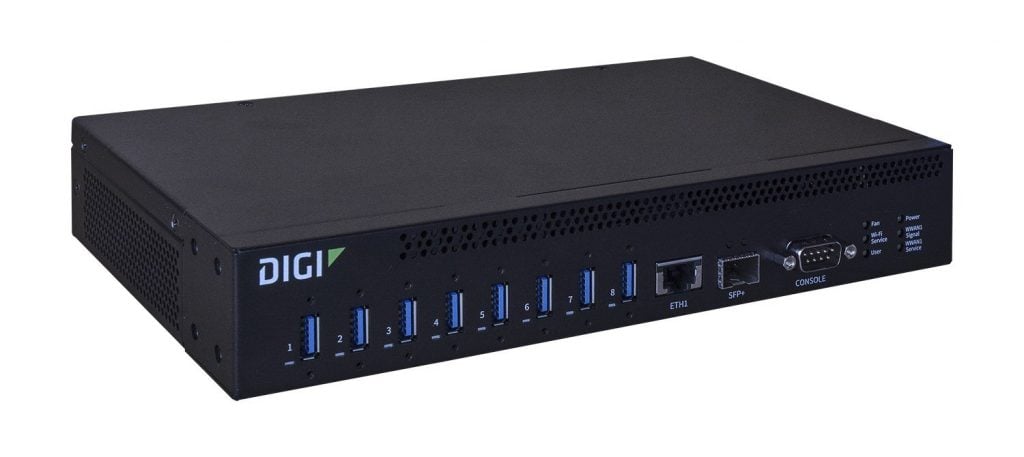 8 USB 3.1 Gen 1 ports
Single 10 M / 100 M / 1 G / 10 G Ethernet
12 VDC
Single SFP+
24 USB 3.1 Gen 1 ports
Dual 10 M / 100 M / 1 G / 10 G Ethernet
Dual power 100-240 VAC
Dual SFP+
Increase Reliability of USB Devices in Harsh Environments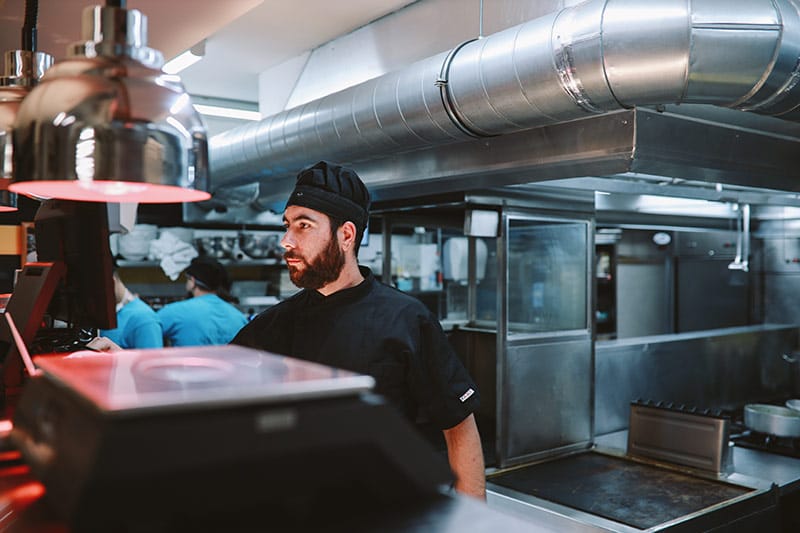 Digi AnywhereUSB Plus software drivers are loaded on a remote computer, making the USB ports appear to be locally attached and allowing the USB device to be located far beyond the three or five meter USB hub distance limits. The USB-based printer, keyboard and monitor are positioned in the commercial kitchen as needed, but the main computer for the restaurant is safely housed in an office or secure closet away from the harsh conditions.
Looking for a Lantronix solution? Contact us for a tailored quote.