Products - Lantronix xPico W1002 Wi-Fi Module, SMT, 802.11 b/g/n, Bulk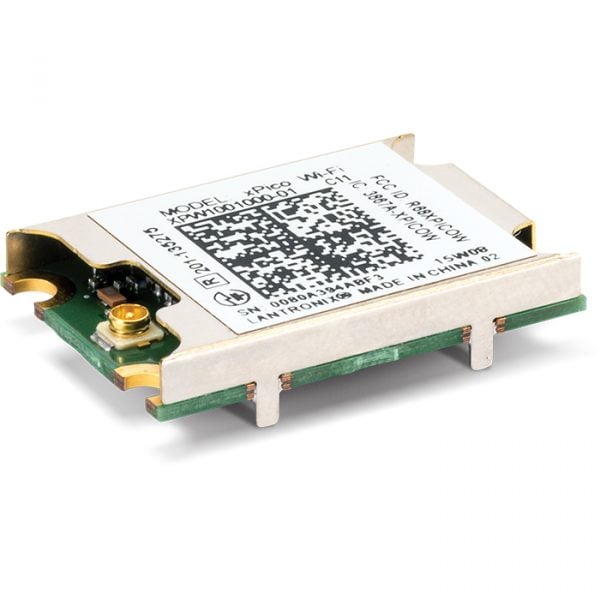 Lantronix xPico W1002 Wi-Fi Module, SMT, 802.11 b/g/n, Bulk
Lantronix xPico Wi-Fi: Embedded Wi-Fi Module
Lantronix xPico W1002 Wi-Fi Module, SMT, 802.11 b/g/n, without On-Module Antenna, with U.FL Connector, Bulk
Simplifies Wi-Fi implementation and integration resulting in faster product design
Delivers unmatched flexibility with a compact footprint, low power consumption and 2 mounting options
Offers unique and proven feature set including; simultaneous Soft AP and client mode, zero host load, and configuration by customization
Lantronix xPico W1002 Wi-Fi Module, SMT, 802.11 b/g/n, Bulk
Description
Lantronix xPico Wi-Fi is a family of compact Wi-Fi modules with market leading performance in range, throughput and roaming capabilities. The family comprises of feature-rich, production-ready software, mobile and cloud-ready APIs, and tools and SDKs that reduce development.
The Most Flexible,High Performance Wi-Fi Module For M2M And IoT Applications
Reduce your development costs, shorten your time to market, and leverage mobile solutions with the Lantronix xPico Wi-Fi family of embedded modules. Based on the Cypress? WICED? Platform, it is one of the world?s smallest and most flexible Wi-Fi modules on the market. xPico Wi-Fi is a state-of-the-art member of the xPico family, providing low power, simultaneous Soft AP and client mode, full IP and WLAN stacks. The xPico Wi-Fi module is a complete device server suitable for mobile M2M applications and includes industry best 5-year warranty.
Easily and Quickly Add WiFi Connectivity Into Any Device
Access your data and devices from anywhere ? wired or wireless. Lantronix industry-proven modules, device server application and protocol stacks enables seamless remote access to device data, simplifying design integration, all while providing robust connectivity ? including the ability to access data from any mobile device, including smartphones and tablets.
Robust Networking Solution
The Lantronix xPico Wi-Fi Module is an extremely compact, low power networking solution that enables wireless LAN connectivity on virtually any design with a SPI, USB or serial interface.
Simultaneous Access Point & Client Mode
The xPico Wi-Fi module is a state-of-the-art solution that offers all the typical functions one can expect plus unique features such as simultaneous Soft AP and Client mode. This capability provides another wireless interface for connected products and is often used by device manufacturers to let their customers set up and configure headless products through a smartphone or web browser.
Flexibility
xPico Wi-Fi modules have a chip-sized footprint with 2 mounting options, providing unmatched flexibility for any design.
Cost Savings & Faster Time-To-Market
As one of the smallest embedded WiFi modules in the world, the xPico Wi-Fi module can be utilized in designs typically intended for chip solutions, accelerating design and development time. Its ?zero host load? capability eliminates any need for drivers on the connected microcontroller making implementation easy and fast with virtually no need to write a single line of code. This translates to considerably lower development costs and faster time-to-market. As xPico Wi-Fi module meets FCC Class B, UL and EN EMC and safety compliance, there is no need for extra certification, thereby reducing overall product development costs.