Products - Lantronix IONMM Series – The ION Management Modules
Lantronix IONMM Series – The ION Management Modules
To take full advantage of the features and functions available with the ION Chassis, an ION Management Module is required. The ION Management Module connects to the chassis backplane and communicates with the individual cards in the ION Chassis. To maintain data security, only management traffic, no end-user data traffic, is sent across the ION Chassis backplane.
Each slide-in module for the ION Chassis has specific features and functions that are controlled via the ION Management Module. A network administrator can configure, monitor and troubleshoot ION slide-in modules remotely via the ION Management Module. This remote management helps reduce Operating Expenses (OpEx) by reducing technician dispatches. Remote management allows for faster mean-time-to-repair (MTTR) by proactively sending traps and alerts on potential issues. With less downtime you are able to focus on the revenue generating aspects of your business.
Lantronix understands that no network is managed in the same manner and that different security levels and management interfaces are often required depending on the deployment of the ION Chassis. With that in mind, we have made the ION Management Module one of the most versatile and secure management modules available today.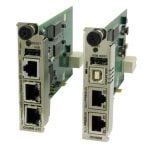 Lantronix IONMM Series – The ION Management Modules
Description
Additional information
Tech Specs
Description
Features
Management VLAN
TLS/SSL
SSH
IEEE 802.1X/RADIUS
SNMPv1 & v2c, and v3
ACL Rules
Management Features
Variety of management access methods including; telnet, web, SNMP
Single slot design allows for more slide-in modules to be inserted in the ION Chassis
Based on Public MIBs
(2) 10/100 Ethernet interfaces
TFTP upgrade/backup of slide-in modules
Import/Export configuration files in human readable/editable format
Multiple community strings
SNTP
Access Methods
Web-browser: Access the ION Management Module using a standard web browser
Command Line Interface (CLI): CLI access can be done via telnet remotely or via the local console port on the ION Management Module

Choose between a management module with a USB Type B CLI port or a RS232 RJ-45 CLI port

SNMP: Since the ION platform is based on public MIBs you can easily manage the ION with a standard network management system (NMS) such as SNMPc, HPOV or any other standard SNMP platform
Focal Point: Lantronix offers a free SNMP graphical user interface (GUI) software for management purposes. Focal Point offers full read and read/write capabilities in a user friendly GUI
Standards
Ports
IONMM:
(2) 10/100 Mbps RJ-45
USB 2.0 device port
USB 2.0 host port
IONMM-232:
(2) 10/100 Mbps RJ-45
USB 2.0 device port
(1) RS232 RJ-45 host port
Dimensions
Width: 0.86" [22 mm]
Depth: 6.5" [165 mm]
Height: 3.4" [86 mm]
Power Consumption
2 Watts under normal operation
4.8 Watts with full 2.5 Watts used by USB host port
(Example: Flash Drive connected requiring 2.5 Watts)
Environment
Environment specs are dependent on the chassis chosen
Operating: 0°C to 50°C
Humidity: 5% to 95% (non-condensing)
Altitude: 0 – 10,000 ft.
Weight
Certifications
EN55022 Class A, EN55024, CE Mark
Warranty