Products - Lantronix XPress DR-IAP, Industrial Device Server with Installable Industrial Protocol
Lantronix XPress DR-IAP, Industrial Device Server with Installable Industrial Protocol
Key Features:
Connect enterprise (ERP, MES) systems to factory floor devices without

disturbing existing control networks

Allow remote firmware upgrades, saving money and time from manual upgrades

XPress DR-IAP version supports industrial communication protocols

Configurable serial interface supports RS-232, RS-422, or RS-485

10Base-T/100Base-TX Ethernet (RJ45)

Isolated serial and Ethernet ports

UL-approved for hazardous locations Class I, Division 2

RoHS compliant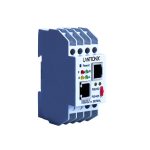 Lantronix XPress DR-IAP, Industrial Device Server with Installable Industrial Protocol
Description
Technical Specifications
Description
Connect Serial Devices Over Ethernet for Various Industrial Applications
The Lantronix XPress DR-IAP or XSDRIN-03 is an industrial device server designed to connect serial devices over Ethernet for various industrial applications. It offers installable communication drivers that support specific industrial communication protocols within a plant or facility to support devices connected to an enterprise network that spans the globe. 
Configure the unit effortlessly through local serial port access or remote Ethernet setup via Telnet or a regular web browser. Simplified by DeviceInstaller,™ a Windows®-based tool.
The device can be loaded with these protocols to facilitate seamless connectivity with a range of industrial devices such as PLCs, drives, process controls, barcode scanners, and more. The XPress DR-IAP's flexibility and native support for industrial protocols make it a valuable tool for integrating non-networked factory floor devices into enterprise systems, enabling powerful remote management and control.
Lantronix XPress DR-IAP | XSDRIN-03, Industrial Device Server with Installable Industrial Protocol, DIN-Rail Mount, Serial Interface, 10BaseT/100Base-TX, 9-30VDC/9-24VAC, RoHS
Connect enterprise (ERP,MES) systems to factory floor devices without disturbing existing control networks
Allow remote firmware upgrades, saving money and time from manual upgrades
IAP version supports installable industrial communication protocols
Configurable serial interface supports RS-232, RS-422, or RS-485
10Base-T/100Base-TX Ethernet (RJ45)
Isolated serial and Ethernet ports
RoHS Compliant