Products - Digi EX50 Cellular 5G Router, 4G/3G Fallback with Accessories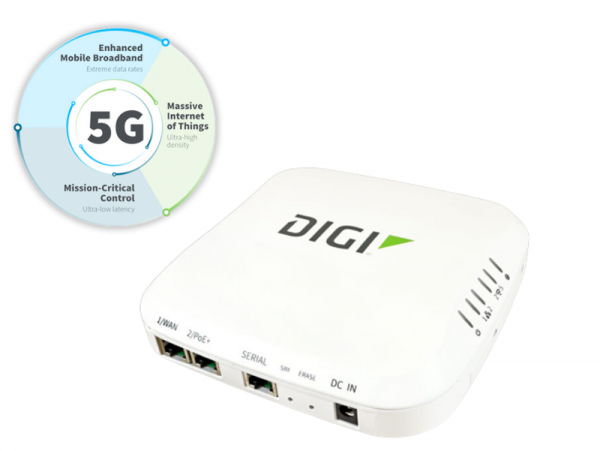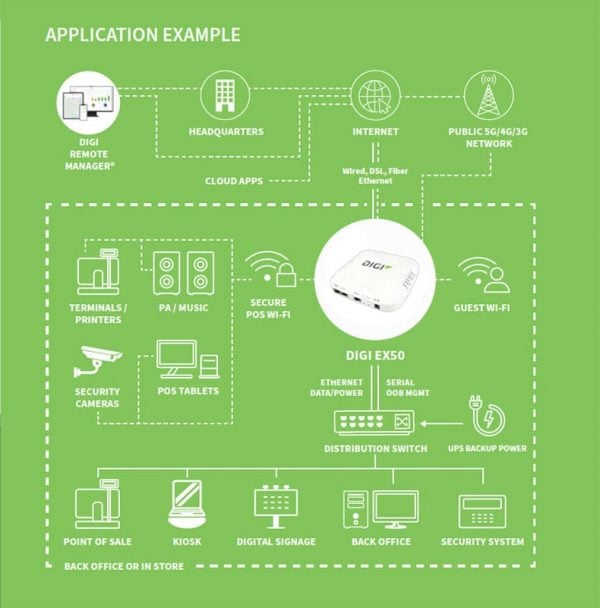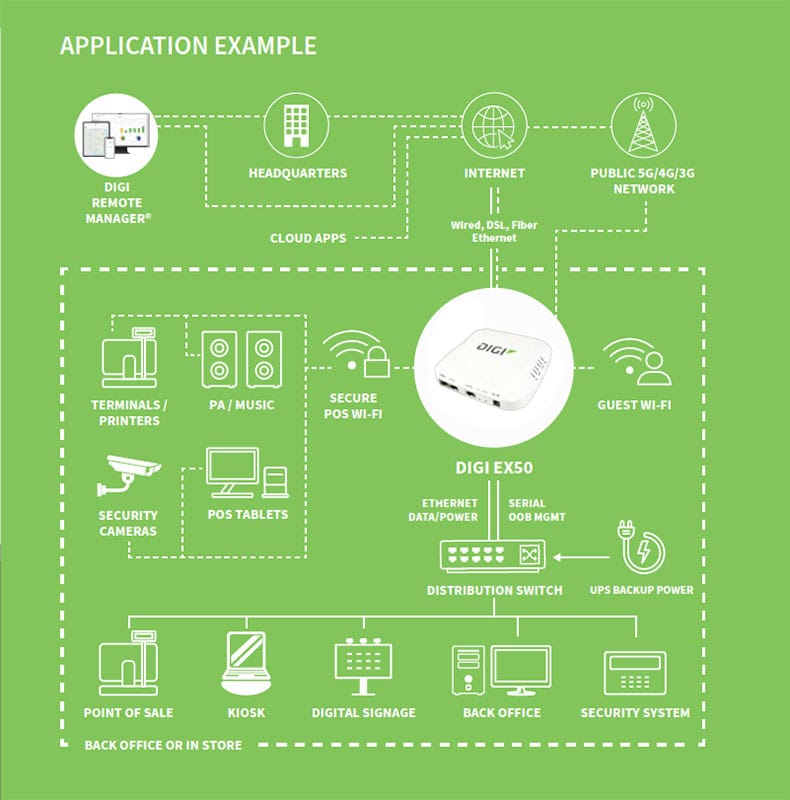 Digi EX50 Cellular 5G Router, 4G/3G Fallback with Accessories
Digi EX50 is an all-in-one 5G cellular router for organizations that require fast, reliable and secure primary or backup?fixed wireless connectivity?for enterprise main, branch and managed home offices. With 5G cellular, Digi EX50 can become your primary wireless ISP connection as a future-proof, cost-effective and fast-to-deploy alternative to wireline.
Digi EX50 Cellular 5G Router, 4G/3G Fallback with Accessories
Description
Digi EX50 Key Features
Future-proof and ready for new use cases such as 5G network slicing, SD-WAN, 4K/8K cameras and AR/VR
High-speed 5G NR and 4G LTE-Advanced Pro Cat 20 dual connectivity cellular radio
Enterprise-grade Wi-Fi 6 and dual 2.5 Gigabit Ethernet? Extended operating temperature range for wider use cases
Standards-based Power over Ethernet simplifies installation
Multiple mounting options and accessories
Serial port for remote, out-of-band management
Securely deploy, monitor and control devices with Digi Remote Manager?
Cellular connectivity:
5G NR: n1, n2, n3, n5, n28, n41, n66, n71, n78, n79; C-Band
4G LTE-Advanced Pro: B1, B2, B3, B4, B5, B7, B8, B12, B13, B14, B17, B18, B19, B20, B25, B26, B28, B29, B30, B32, B34, B38, B39, B40, B41, B42, B46, B48, B66, B71; CBRS, LAA
3G HSPA+: B1, B2, B3, B4, B5, B6, B8, B9, B19
Antenna connectors: (4) 50 ? SMA (center pin: female)
SIM slots: (2) Mini-SIM (2FF); software selectable, hardware switchable; SIM slot cover plate
Software and?management:?
?Software:?Digi Accelerated Linux?(DAL OS); secure, reliable, intelligent, customizable
Remote management:?Digi Remote Manager?, security, management, updates, alerts, scheduling and intelligence
Local management: Web Interface (HTTPS); Command Line Interface (SSH, serial port)
Performance:
?Ethernet throughput: 2.0?Gbps
Cellular throughput: 1.0?Gbps
IPsec VPN throughput: 500 Mbps
VPN tunnels: 10 tunnels
Client count: 50 clients (typical)
Processor:
?Application processor: ARM? Cortex?-A53, 1.8 GHz, quad-core, 64-bit
Memory: 512 MB RAM, 512 MB flash
Ethernet:?(2) RJ-45; 10/100/1000/2500?Mbps (auto-sensing)
Wi-Fi:
Radios: Wi-Fi 6 / 802.11ax, enterprise-grade, dual-band simultaneous, 2×2 MIMO; 2.4 GHz: 802.11b/g/n/ax; 2.4 GHz and 5 GHz: 802.11a/n/ac/ax
Antennas: Integrated 2×2 MIMO, 2.4 with 8 dBi gain,?5 GHz with?5 dBi gain
Security: Open, Enhanced Open, WPA, WPA2, WPA3; Personal, Enterprise
Modes: (4) Wi-Fi access points; (2) Wi-Fi clients, (50) Wi-Fi users (typical)
Serial:?
(1) RS-232 (RJ-45); Cisco straight-through pinout; for out-of-band management of network,?software selectable
Operating temperature:?
0? C to 40? C (32? F to 104? F) with included commercial-rated power supply; -30? C to 60? C (-22? F to 140? F) with Power over Ethernet or industrial-rated power supply
Accessories:?
includes DC power supply, mounting hardware, Ethernet and serial cables
What's in the box
Digi EX50?- Global, 5G NR Sub-6 GHz with 4G/3G fallback, Wi-Fi 6 2×2 MIMO DBS, dual 2.5 GbE, RS-232, with accessories
Power?-?DC power supply
Mounting?- mounting hardware
Cables?- Ethernet and?serial cables