Products - Digi TransPort WR44 RR – 4G LTE LATAM/ANZ, Wi-Fi (802.11ac)
Digi TransPort WR44 RR – 4G LTE LATAM/ANZ, Wi-Fi (802.11ac)
Rugged, all-in-one cellular router with 3G/4G GPS designed for use on-board rail vehicles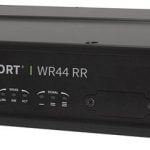 Digi TransPort WR44 RR – 4G LTE LATAM/ANZ, Wi-Fi (802.11ac)
Description
** Recommended replacement: Digi TX64 5G Rail**
Digi TransPort® WR44 RR is a rugged enterprise-class cellular router designed for rail environments. Its rail industry ratings, versatility, security features and performance make it ideal for applications such as Positive Train Control (PTC), wayside device communications and on-board passenger Internet access.
Digi TransPort WR44 RR provides a reliable primary high speed cellular network connection or can act as a secure backup connection to the existing railroad network. It features a flexible communications design with 3G/4G multicarrier cellular, plus integrated Wi-Fi ac/b/g/n; a/n access point, serial and 4-port Ethernet switch. It also features full on-board train certifications, including AAR S-9401 and EN50155. Communications interfaces include hardened connectors, including M12 for Ethernet and serial, as well as TNC connectors for antenna connections.
Gain critical insights into your deployed devices and manage your network with Digi Remote Manager® (Dig RM) — the command center for your deployment. Digi RM is a cloud-based solution that facilitates easy setup, mass configuration, maintenance and support for hundreds or even thousands of remote devices. Digi RM lets you evaluate, update and configure your Digi enterprise products — and the health of your network — at scale after deployment.
Heavy-duty enclosure and connectors designed for shock and high vibration environments
Enterprise-class routing, VPN and firewall capabilities
Optional integrated 802.11 ac/b/g/n; a/n Wi-Fi access point
Dual SIM for carrier redundancy
Cellular to Wi-Fi autoswitch
Full on-board train certs including AAR S-9401 and EN50155
Digi Remote Manager® platform for easy setup, mass configuration and management
Migrating from a WR-series device? Get information and tools to setup your new IX-series router.
Key Industries
Heavy Machinery