Products - Lantronix E-TBT-MC05 Stand-alone Ethernet Transceiver (Copy)
Lantronix E-TBT-MC05 Stand-alone Ethernet Transceiver (Copy)
The E-TBT-FRL-05 is a stand-alone media converter that provides an interface between 10Base-T ports and 10Base-FL ports, allowing users to integrate fiber optic cabling into 10Base-T copper environments. Operating at Layer 1, the physical layer, data is passed through the converter at line speed, making it ideal for applications where low latency is essential.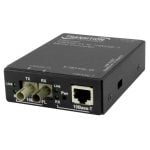 Lantronix E-TBT-MC05 Stand-alone Ethernet Transceiver (Copy)
Description
Features
Tech Specs
Description
Stand-alone Ethernet Media Converter
10Base-T to 10Base-FL
Auto-MDI/MDIX
Link Pass Through
Automatic Link Restoration
Integrate mixed cabling environments using either switched or shared Ethernet
Standards
IEEE 802.3
10Base-T
10Base-FL
Switch
S1: Enables/disables Link Pass Through
Status LEDs
PWR (Power): ON = connection to external AC power
Link: ON = unit is receiving link pulses from a compliant device
RX (Receive): ON = packets are being received
Dimensions
Width: 3″ [76 mm]
Depth: 3.9" [99 mm]
Height: 1″ [25 mm]
Power Supply
External AC/DC required; 12 VDC, 0.5A, unregulated, standard
Environment
Operating: 0°C to 50°C
Humidity: 5% to 90% (non-condensing)
Altitude: 0 – 10,000 ft.
Weight
MTBF
54,337 hours (MIL217F2 V5.0) (MIL-HDBK-217F)
131,255 hours (Bellcore7 V5.0)
Certifications
Safety: Wall Mount Power Supply: UL Listed, cUL Listed (Canada)
Regulatory: FCC Class A, CISPR22/EN55022 Class A, EN55024, EN61000, CE Mark
Warranty