Products - Lantronix E-TBT-MC05 Stand-alone Ethernet Transceiver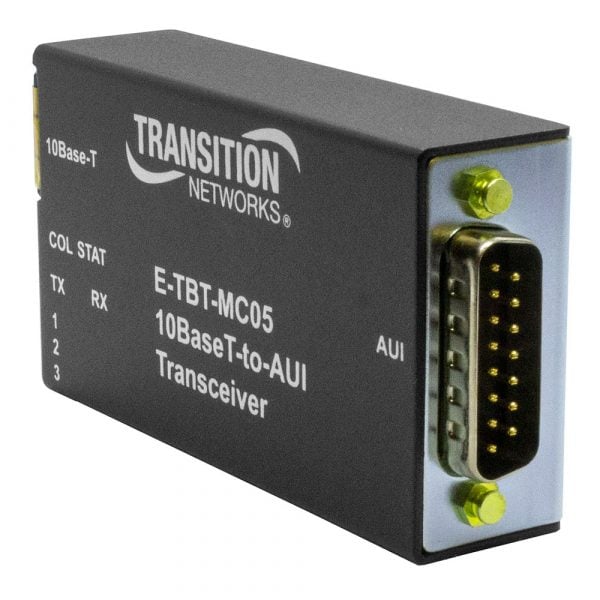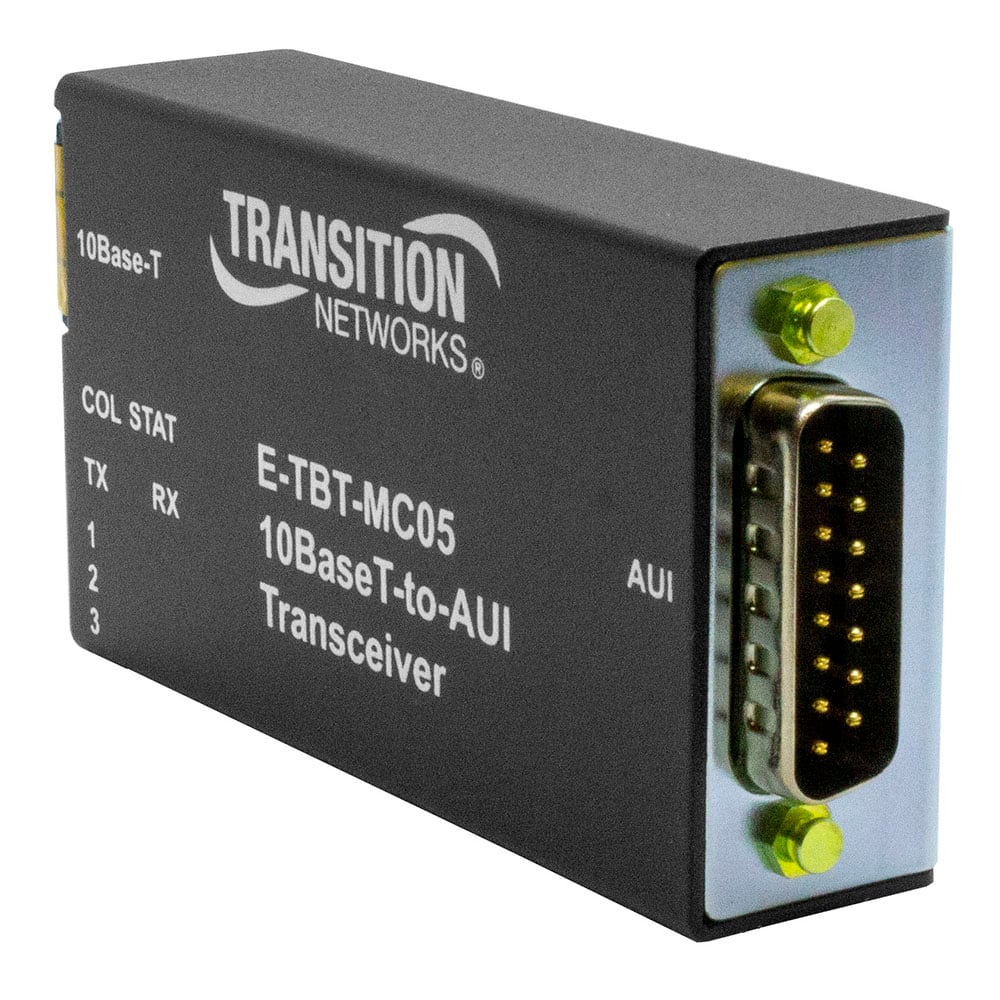 Lantronix E-TBT-MC05 Stand-alone Ethernet Transceiver
The E-TBT-MC05 is an Attachment Unit Interface (AUI) transceiver that provides a method for connecting a workstation, or any other device with an AUI port, to twisted pair cabling in a 10Base-T network. Devices with AUI ports could include: servers, hubs, bridges and routers. The E-TBT-MC05 transceiver allows twisted pair, UTP or STP, to be connected to these AUI ports.
Lantronix E-TBT-MC05 Stand-alone Ethernet Transceiver
Description
Features
Tech Specs
Description
Stand-alone DS3-T3/E3 Network Interface Device
DS3 – T3/E3 Coax over Fiber
Provides a complete interface of the AUI to Ethernet UTP cable
Supports data transfer rate of 10 Mbps
CSMA/CD access mechanism
Capable of driving the UTP cable segment up to 100 m (328 ft.) without the use of a repeater
Selectable Link test and SQE test functions
AUI locking post design allows the E-TBT-MC05 to directly attach to a host's AUI connector
Can be used with or without an AUI cable
LED indicators for network monitoring and diagnosing
The RJ-45 port will automatically detect and reverse the polarity on the receive pair, if needed
Standards
Data Rate
Switch
SW1: SQE Test: UP is enabled
SW2: Link Test: UP is enabled
SW3: Half or Full-Duplex: UP is for Half, Down is for Full
Status LEDs
COL: Blinks when detecting collisions
STAT: Solid Green: UTP Link established; Blinks Green: No UTP Link; 4-Blink Pattern: Polarity reversal detected on UTP cable
TX: Blinks when transmitting data on the RJ-45
RX: Blinks when receiving data on the RJ-45
Dimensions
Width: 3.1" [79 mm]
Depth: 0.8" [20 mm]
Height: 1.7" [43 mm]
Power Consumption
Not to exceed 75mA@12 VDC
Power Supply
No external power required
Power Input
10.2 to 15.75 VDC; 250mA@12 VDC
Environment
Operating: 0°C to 50°C
Humidity: 5% to 95% (non-condensing)
Altitude: 0 – 10,000 ft.
Weight
MTBF
Certifications
FCC & CISPR Class A, CE Mark
Warranty