Products - Lantronix N-TGE-SFP-02 – PCIe 10 Gigabit Ethernet Fiber Network Interface Card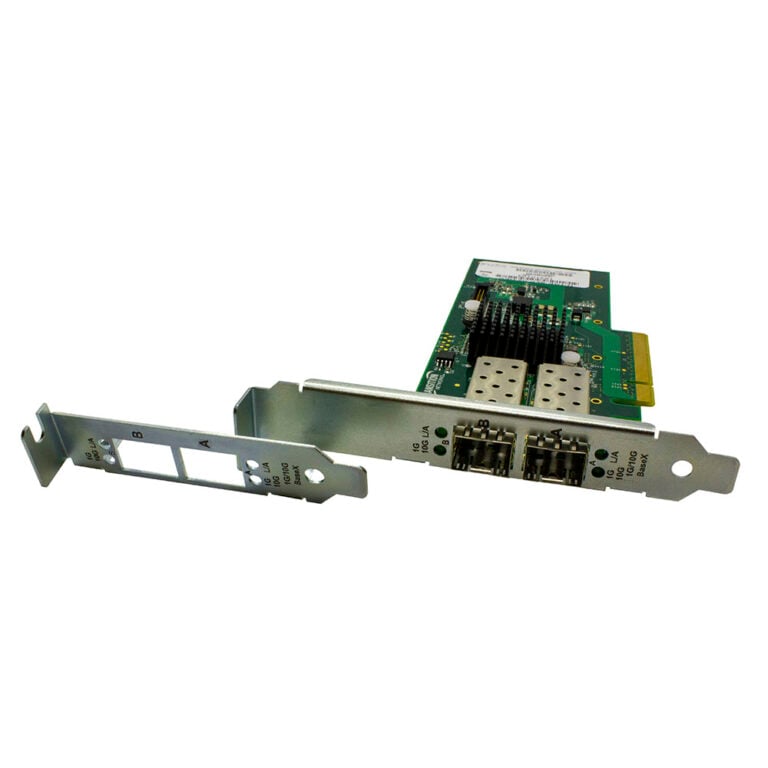 Lantronix N-TGE-SFP-02 – PCIe 10 Gigabit Ethernet Fiber Network Interface Card
Lantronix N-TGE-SFP-02 – PCIe 10 Gigabit Ethernet Fiber Network Interface Card
1000Base-X/10GBase-SR/LR SFP+
The N-TGE-SFP-02 is a Fiber 10Gigabit Ethernet to PCIe bus adapter that supports a 1Gbps/10Gbps link and fully complies with IEEE 802.z and 802.3ae standards. The open SFP slots can be used with 1000Base-X SFPs or 10GBase-SR/LR SFP+ modules. The NIC provides up to 20 Gbps full-duplex bandwidth capacity to support high-end servers. In addition, with advanced functions like VLAN filtering packet processing, link aggregation and smart load balancing, the adapter providesenhanced performance, flexible configuration and secure networking for users in a standard-based environment. The NIC is suitable for high resolution or high speed data transfer, fiber-to-the-desk, data center, SMB and cloud computing applications. Two LED indicators (LINK/ACT and SPEED) per port on the bracket will help to oversee the board link, activity status and connection speed.
Lantronix N-TGE-SFP-02 – PCIe 10 Gigabit Ethernet Fiber Network Interface Card
Description
Datasheet
Technical Specifications
Description
N-TGE-SFP-02 Overview
Features
High bandwidth 10Gbps network speed
Supports 1Gbps SFPs with DMI
Supports IEEE 802.3x Full-Duplex flow control
IPv4 and IPv6
Compliant with PCIe 3.0×8 interface
Supports Jumbo Frames – 9014 and 4088 byte options in Windows>Advanced Properties tab
Supported transmission distance based on the SFP/SFP+ modules and fiber type used (1Gbps SFP modules must support DMI)
Supports IEEE 802.3ad Link Aggregation (LACP)
IEEE 802.1Q VLAN support
IEEE 802.1p QoS
Checksum offload (IP/TCP/UDP)
Teaming

Adapter Fault Tolerance (AFT)
Adaptive Load Balancing (ALB)
IEEE 802.3ad Dynamic Link Aggregation
Switch Fault Tolerance (SFT)
Static Link Aggregation (SLA)
Virtual Machine Load Balancing (VMLB)

Virtualization/Hypervirtualization
SR-IOV
RSS/TSS
MSI/MSI-X
LED status indicator
Supports PXE remote, remote boot
RoHS compliance
Standard bracket attached, low-profile bracket included
N-TGE-SFP-02 Tech Specs
Standards
IEEE 802.3-2008
IEEE 802.3ae
IEEE 802.3z
IEEE 802.3x
IEEE 802.3ad
IEEE 802.1Q
IEEE 802.1p
Bus Slot
Cable
Fiber (multimode): 0/125,62.5/125μm
Fiber (single mode): 9/125μm
Data Rate
10 Gbps: 14,880,000 pps
1 Gbps: 1,190,476 pps
Status LEDs
LINK/ACT (Link/Activity): On = communication link, Flashing = activity on link, Off = link fail
SPEED: On = 10G, Off = 1G
Software Support
Windows 10 Professional
Windows 8 Professional
*Windows 7 Professional
*Windows Server 2008 R2
Windows Server 2019
Windows Server 2016
Windows Server 2012 and 2012 R2
Linux Support
*Requires Intel Network Connections Software v25.0 or earlier)
Dimensions
Width: 2.525" [64.135 mm]
Depth: 6.173" [156.79 mm]
Height: 0.75" [19.05 mm]
Power Consumption
Environment
Operating: 0°C to +50°C
Storage: -15°C to 65°C
Humidity: 5% to 95% (non-condensing)
Altitude: 0 – 10,000 ft.
Weight
MTBF
Certifications
EN 55032-2012/AC:2013 FCC 47 CFR Part 15 Subpart B ISED ICES-003 Issue 6:2016, Updated April 2019 Class B
EN 55024:2010/A1:2015
EN 61000-3-2:2014 (<16A)
EN 61000-3-3:2013 (16A)
CE Mark
Warranty