Products - Lantronix NM2-GXE-01 Series – Network Interface Card for Dell OptiPlex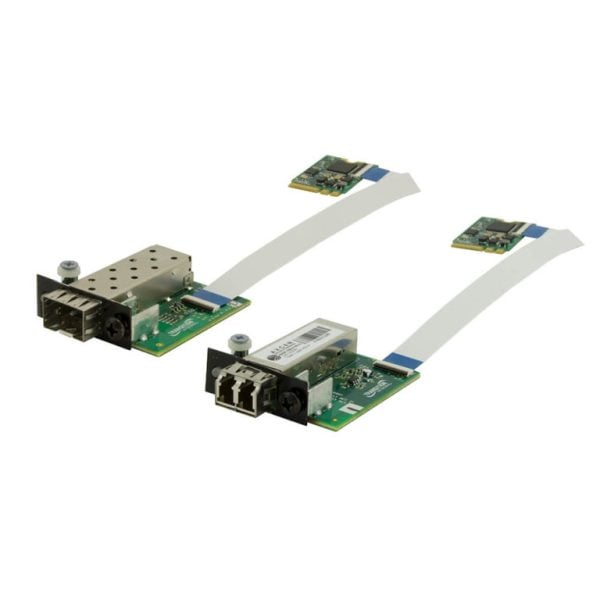 Lantronix NM2-GXE-01 Series – Network Interface Card for Dell OptiPlex
Lantronix NM2-GXE-01 Series – M.2 Gigabit Ethernet Fiber Network Interface Card for Dell OptiPlex 7040/7050 & Wyse 7040/7050
1000Base-SX/X
Lantronix M.2 Gigabit Ethernet Fiber Network Interface Card (NIC) provides a fiber optic interface for the Dell OptiPlex™ 7040 and 7050 Micro PCs and the Wyse 7040/7050 Series thin clients. The NM2-GXE-2230-xx-01 Series consists of a M.2 NIC that installs into the OptiPlex Micro PC's M.2 "A or E keyed" interface, a fiber optic adapter that installs into the OptiPlex Micro PC's Option port, and a 20-pin Flat Flex Cable (FFC) that connects the NIC to the fiber adapter. The fiber optic adapter is available with either a 1000Base-SX LC optic or open SFP (SFP module sold separately).
Lantronix NM2-GXE-01 Series – Network Interface Card for Dell OptiPlex
Description
Datasheet
Technical Specifications
Description
NM2-GXE-01 Series Overview
Features
PCI Express M.2 compliant
A + E keyed M.2 interface
Full duplex
Flow control
Wake on LAN (WOL)
Smart Load Balancing (SLB)
TCP Segmentation Offload (TSO)
Message Signaled Interrupts (MSI)
Extended Message-Signaled Interrupts (MSI-X)
LACP support (Teaming)
IPv6 Capable
Supports UEFI
Supports PXE boot
Jumbo frame support 9014 bytes
1000Base-SX multimode LC fiber connector or open SFP interface
NM2-GXE-01 Series Tech Specs
Standards
Bus Slot
Data Rate
1000 Mbps (full duplex only)
Max Frame Size
Status LEDs
LINK/ACT
ON = Link
Flashing = Activity
Dimensions
M.2 NIC

2230-D4-A-E
Width: 0.87" [22 mm]
Depth: 1.18" [30 mm]
Height: 0.12" [3.08 mm]

Fiber Interface)

Width: 1.65" [42 mm]
Depth: 2.05" [52 mm]
Height: 0.51" [13 mm]

FFC Cable
Software Support
Windows 10, 8, 8.1, and 7 (32/64 bit); Linux
Power Consumption
LC: 250mA @ 3.3V (0.8 Watts typical)
SFP: 120mA @ 3.3V (0.4 Watts typical without SFP module)
Power Source
M.2 interface connector: 3.3V (Refer to table 41 of M.2 Specification)
Environment
Operating: 0°C to +45°C
Storage: -40°C to 85°C
Humidity: 5% to 95% (non-condensing)
Altitude: 0 – 10,000 ft.
Weight
Certifications
CE Mark; Emissions: EN55032, FCC Part 15 Class A; Immunity: EN55024
Warranty